Military Conflict Within the Shan State
Some people who are forced off their lands flee to neighboring countries as refugees in search of new opportunities, while others join Buddhist monasteries.   Still others enlist in or are drafted into the Shan State Army (SSA), which includes the Shan State Army-North (SSA-N), the Shan State National Army (SSNA), and the Shan State Army-South (SSA-S).   For many of them, the SSA provides a sense of unity and refuge as the Shan struggle to gain their promised independence.   They fight with an acute awareness of their military handicaps.   For example, some other tribal groups with their own armies have formed temporary military alliances with the central Burmese government, creating more divisions among the people of Shan State.   Others, however, view the SSA less favorably, such as people forced to flee Burma for Thailand rather than pay taxes to both the Burmese military and the SSA.

Shan State Flag
Development
Burma is rich in natural resources, including oil, natural gas, metals, precious stones, and timber.   In spite of this, however, infrastructure in the country is minimal.   Burma is one of the world's poorest nations and was designated as the world's least developed countries by the United Nations in 1987. Outside of Rangoon, paved roads are few and far between, and airports are rare.   Almost all villages survive without plumbing or electricity, and even the larger cities are frequently without the latter.
Refugees/Internally Displaced People
The Shan are regularly denied refugee status in Thailand and other countries.   Shan who do qualify for refugee status are often treated as illegal immigrants and deported back to Burma.   Due to their constant migrations, some Shan have no citizenship in any country and are thrown in prison and fined on both sides of the border.   Those without legal status, work permits, or citizenship are left at the mercy of unscrupulous employers who often refuse to pay workers and threaten to expose them.   Some Shan have taken these matters into their own hands and formed their own refugee camps. There is a need for outside help to provide medical care, education, and compassion for the refugees and their families. One refugee camp leader has made the obvious point, "How can people help the Shan, when they do not know about the Shan?"   A similar situation exists within Burma, where tens of thousands of Shan have fled their homes for other parts of the country due to fighting or at the direction of the Burmese government.
| | |
| --- | --- |
| (Border Refugee Camp) | (Border Refugee Camp) |
Drugs and Prostitution
Due to the Shan's limited means of income, prostitution and drug trade abound. If schooling is unavailable, many girls are forced into prostitution. Young and old have become slaves to opium, heroin, and alcohol addictions. The production and exportation of opium is a major source of livelihood for some.
Health Care
In the rural areas of Burma, the availability of medical care is limited. Malnutrition, inadequate sanitation, inferior water quality, and the prevalence of diseases such as malaria and AIDS are only a few examples of the daily struggles thousands experience. Life expectancy is only 56 years, and the infant mortality rate is high. The provision for health care is absent, and without treatment many people die; in some situations people seek the magic of local shamans to provide cures.
| | |
| --- | --- |
| (Refugee Nurse) | (Spirit Doctor) |
Education
In the Shan State, as in other areas of Burma, many children do not have the opportunity to attend school. Those who do usually receive only up to a sixth-grade education, and the teachers provided for the Shan often are among the least qualified. Many of the Shan children who attend government schools are not allowed to read, write, or speak the Shan language.   In most circumstances, local monasteries or temples provide the schooling, which frequently is inferior to the education provided by the government schools.   Buddhist monks often serve as teachers and role models for students. Through the national school system Buddhism becomes an integral part of society.
| | |
| --- | --- |
| (Monk Teaching) | (Class Pledge of Allegiance) |
Spiritual
Regular reports of answers to prayer over the past two years, with increasing intensity, seem to indicate a fresh outpouring of God's blessing among the Shan. It is our desire to share the bounty of these blessings with you, as well as ask that you would join us in calling upon God for more blessing. "What shall I render to the Lord? For all His benefits toward me? I shall lift up the cup of salvation And call upon the name of the LORD (Ps 116:12)."
July 14, 2002
An immediate answer to prayer and a spontaneous ministry opportunity takes place among the entire village of Ban Thad. Watch the Shan children sing, "Jesus Loves Me!"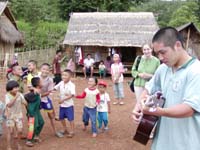 (Click on the picture to view the clip)
Recent Shan Testimony Born into an impoverished rural Shan family, Leng Bang's mother didn't get a birth certificate for him because the money she needed for transportation into town was consumed by her husband's opium addiction. His parents believed in Christ through the witness of a missionary. A teenager today, Leng Bang had a close brush with death when two types of Malaria attacked him at once. Leng was miraculously healed through prayer. Now, despite cultural hardships, his faith is deepening and he has committed his life fully to the Lord. Leng aspires to become a leader and an evangelist among his people.